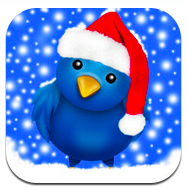 Esta disponible Gratis tweeterena christmas edition, uno de los clientes de Twitter de pago que podemos encontrar en la App Store está gratis por tiempo limitado para el iPhone y el iPod Touch en su christmas edition con algunas mejoras que pasaremos a mencionaros a continuación.
Las mejoras incluidas en esta edición especial son las siguientes:
✔ 5 beautiful christmas tweeting themes
✔ tweeterena nativity theme
✔ tweeterena snow theme
✔ tweeterena gift theme
✔ tweeterena santa theme
✔ new magic start up sound
✔ other christmas sounds
✔ treat – holiday season sounds
✔ save a draft message
✔ includes standard tweeterena theme for when the holiday season is over so you can still use it!
Otras mejoras:
✔ twitvid support – tweet video (3GS only)
✔ ad free
✔ custom font sizes
✔ automatic twitlonger
✔ full size profile image
✔ save profile images
✔ quick tap 'my profile'
✔ gps nearby searching
✔ twitter search with save
✔ twitter trends
✔ img.ly image upload support
✔ auto rotate tweet view
✔ landscape keyboard
✔ optional left hand controls
✔ inline web browser
✔ automatic url shrinking
✔ block / unblock users
✔ follow / unfollow users
✔ scroll to unread tweets – magic scroll
✔ auto refresh – magic refresh
✔ conversation views
✔ optional sound effects
✔ vibrate notification
✔ unread tweet badges
✔ quick tap to newest tweet
✔ full cache memory
✔ manage your favorite tweets
✔ browse your friends and followers
✔ @mention support
✔ view your public timeline
✔ direct messages
✔ retweet function
✔ auto support
Puedes descargar la aplicación en el siguiente enlace.
tweeterena christmas edition | 0.99 € | Descarga