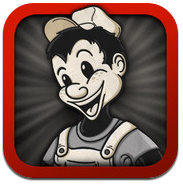 Se encuentra en descarga gratiuta por tiempo limitado (mientras dure la oferta), las aplicaciones de pago Billy the Painter, para iPhone y iPod Touch y Billy the Painter HD, para iPad, en la App Store. Usa tu sentido del ritmo, golpes precisos y rápidas decisiones para ayudar a Billy pintar la antigua fábrica.
Eres lanzado a la era del swing de los años veinte y de las animaciones hechas a mano, antes del tiempo de los aviones y los computadores, por no hablar de los teléfonos móviles. Pobre Billy tiene un trabajo difícil de hacer. Tiene que pintar el piso de una antigua fábrica después de la remoción de las máquinas obsoletas. Tiene que pintar la superficie expuesta de manera exacta, y no puede derramar pintura sobre el resto del piso brillante.
Con cada golpe comienza una onda de pintura expandiéndose en todas las direcciones hasta que llega a aquella parte antigua y terminada del suelo. Trata de llenar un área tan grande como te sea posible antes de que la primera onda pase el límite. ¡Cuanto más preciso seas, más puntos conseguirás!
Descarga:
Descarga: