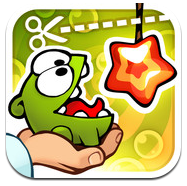 Cut the Rope: Experiments y Cut the Rope: Experiments HD, el famoso juego de estrategia en el que tendremos que cortar las cuerdas para darle el caramelo a nuestro pequeño amigo verde, llega a la App Store con un nuevo giro. Ahora combina la acción misma de cortar la cuerda para alimentar el monstruo con nuevas características y elementos de juego, incluyendo tiradores de cuerda y de succión. ¿Puedes ayudar al profesor y a Om Nom a obtener los mejores resultado a través de estos experimentos extravagantes?
Disfrutarás de:
125 nuevos experimentos (los niveles) a través de 5 nuevas opciones de colores, con más por venir!
Las nuevas pistas musicales, sonidos y animaciones.
Juego gratis por tiempo limitado en la App Store para iPhone, iPod Touch y iPad.
Descarga iPhone/iPod Touch:

Descarga iPad: